Jetovator Jet Bike Kit
JETBIKE-KA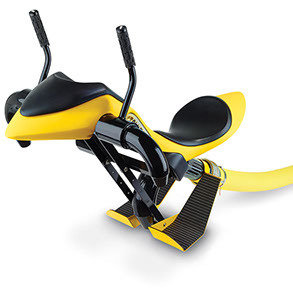 Jetbike by Jetovator:

$6572.50
(Includes Free Test/Training Flight with Purchase)

Purchase Price Includes:
•Jetovator Bike
•60 Foot 4inch hose(black, yellow or red)
•Compact thrust adapter (u-pipe)
•Powerfly shock cord (for securing hose to PWC)

*landing gear available for additional $585

Jetovator Jetbike Features:

•The easiest hydroflight device on the market. If you can ride a bike, you can ride the Jetovator!
•Infinite-swivel hose connector, allowing for spins and advanced maneuvers without concern for hose kinks
•Lengthened hose, providing a flight ceiling of 50+ feet
•Tri-Jet Design, allowing for lift and precision steering,
•Improved bike seat design, vastly improving comfort and allowing for longer flight times
•Strengthened U-pipe jet ski connector, ensuring efficient water flow to the Jetovator.
•Compatible with most Yamaha, Kawasaki, SeaDoo watercraft (Note: PWC is NOT included in purchase price)

Despite its impressive aerial capabilities, the Jetovator is actually incredibly easy to learn to operate. The idea of balancing atop a moving hose sounds impossible but the Jetovator provides such a stable platform that we can train just about anybody to operate it safely and proficiently within twenty minutes.

The Jetovator can attain forward speeds of 25mph and riders can cruise in comfort for long distances. The production Jetovator is limited to a height of 40 feet and can also dive under water for brief durations. Skilled riders can also perform freestyle tricks but we recommend these only be attempted by well practiced operators in a safe environment clear of any other people or boats.
----US Shipping Only. Please contact us for shipping anywhere else.----