Jetovator Tandem Jet Bike
TANDEM-KA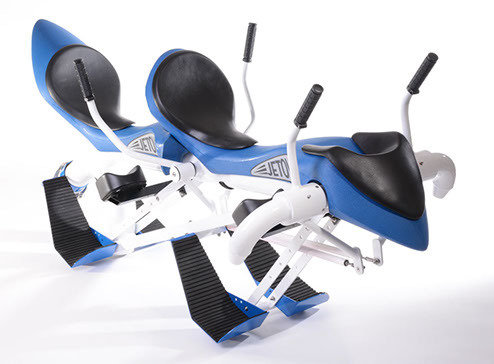 Tandem Jet Bike by Jetovator:

$7698.90
(Includes Free Test/Training Flight with Purchase)

Purchase Price Includes:
•Jetovator Tandem Jetbike
•Hose Connector
*****Tandem Jetbike Only*****
Need the Jetovator Tandem WITH hose and high flow U-pipe?The Jetovator Tandem Kit is available for purchase with the hose and U-pipe for $10,998.90

Jetovator Tandem Jet Bike Features:

• The easiest hydroflight device on the market. If you can ride a bike, you can ride the Jetovator!
• Tri-Jet Design, allowing for lift and precision steering
• Compatible with most Yamaha, Kawasaki, SeaDoo watercraft (Note: PWC is NOT included in purchase price) Requires High Power PWC with at least 180hp and Dual Impeller.
The Tandem Jetovator has twin controls, allowing it to be controlled from the front or rear seat. New riders can fly in comfort knowing they have an instructor or experienced rider in the back that can take over the controls at any time. An adventurous day at the lake, river or ocean can be even more thrilling when flying above water with your friends on the new Jetovator Tandem Jetbike.
Each Tandem Jetovator is custom made in the United States and requires 2 weeks build time.
Need the Jetovator Tandem WITH hose and high flow U-pipe?The Jetovator Tandem Kit is available for purchase with the hose and U-pipe for $10,998.90

----US Shipping Only. Please contact us for shipping anywhere else.----

Skat-Trak Dual Impeller
Add Skat-Trak Dual Impeller for $825 (825)